Founded in 1999 by Kevin and Kim Carleton, Carleton & Company, LLC is the building and development arm of a group of affiliated companies whose combined energies work in harmony to design, construct, manage and market trend-setting commercial and residential developments.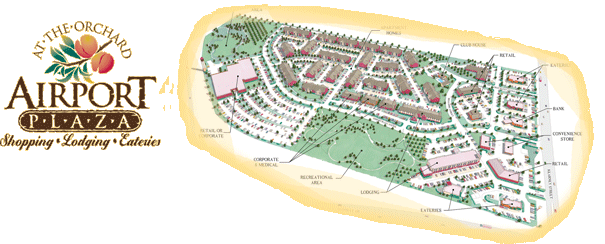 3400 Block West Kearney Street · Springfield, Missouri
A 66-acre development located at the juncture of Kearney Street, Highway 160 and Interstate 44. This landmark project currently offers unique eateries, lodging, retail space and offices for professional and corporate entities. As the gateway to north Springfield, Airport Plaza at the Orchard offers a powerfully positive first impression for visitors arriving at nearby Springfield-Branson Regional Airport.

4100 Block North Highway NN · Ozark, Missouri
A 150-acre, three-phase Old World development located on NN Highway in the booming area of north Ozark, Missouri. Phase I of this masterplanned project will be Office Park Village, offering premiere office space for sale or lease. Phase II will be upscale residential cottages for seniors, with lawn and grounds maintenance provided. Phase III will include retail business, restaurants and an entertainment complex.
1531 East Bradford Parkway · Springfield, Missouri
An exclusive 30,000 square-foot office development located at 1531 East Bradford Parkway in Southeast Springfield. Bradford Place features the Carleton trademark of European-style architecture combined with Old World charm. Exterior features include stucco, stone, copper finials and detailed landscaping. Interior detailing includes large timber beams, decorative iron railings, and hand textured faux wall finishes.

Corner of National Avenue and Republic Road· Springfield, Missouri
Located in the heart of Springfield's retail shopping area at the corner of South National and East Republic Road. Developed in 1996, this 17,380 square-foot shopping center has been fully leased since completion. Carleton Corners continues to thrive and has set the pace for additional centers of economic activity subsequently built in the immediate area.

2925 East Battlefield Road · Springfield, Missouri
A 30,000 square-foot office complex built in the grand English Manor style. Tall fireplace stacks with unique chimney pots, old iron signage, themed lighting and spectacular landscaping are among its distinctive features. Located in the elite East Battlefield Road commercial district, it will house attorneys, physicians and corporate offices.

1525 East Republic Road · Springfield, Missouri
A recently completed two-building office complex totaling 35,000 square-feet at 1525 East Republic Road. Flowers and verdant landscaping embrace a classic courtyard motif to provide an elegant venue for the business activities of all tenants. Offering a combination of appealing English country design and great location, most available office space was pre-sold to investors and users well before construction was completed.

1435 East Bradford Parkway · Springfield, Missouri
Utilizes the timeless Jacobean style of European architecture featuring masonry walls and steeply pitched rooflines. This elegant structure houses 18,000 square feet on two levels, enhanced by stone fireplaces, covered parking and private courtyards. Cut stone surrounds at each entry way, high chimneys and majestic dormers complete the Old World charm of this premiere location.